I can optimize your wifi.
For me, it's all about knowing what you need and building a system around you.  I can expand or upgrade your existing setup.  Residential or commercial, the lines are blurring between them these days.  Optimizing the latency for gaming is a key for gamers.
Placement is determined by your needs.
Use less data when your entire home is covered with wifi.
Security is always a priority.
Don't wait to upgrade
Most consumer routers stop getting updates after a few years.  Stay secure and keep performance up.  This 7 year old (white) router was out of date and nowhere near as capable as the new model (black).   Sometimes better coverage and performance is easier than you think.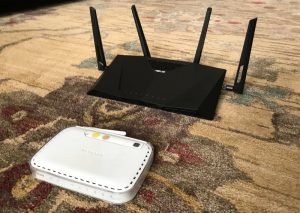 Want a Personal Network?
Lets setup a consultation to figure out what meets your needs and go from there.